Having worked as a college lecturer for 10 years Gregg Smith has taken the big step towards achieving a lifetime goal of running his own photography studio with the help and support of the Barrett & Coe Franchise.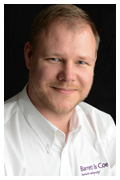 "I decided to go down the Franchise route because I liked the fact that there was continued support not only from Barrett & Coe with comprehensive training and advice, but also with the network of other Franchisees.
The Barrett & Coe training and courses allowed me to develop my photography skills at a comfortable pace and the way that the training is set up also meant that I could complete the photography training days at weekends when I was available, giving me time to study and complete the homework/assignments which were set, which was most enjoyable."
Gregg gained a Grade 1 Barrett & Coe Diploma in both wedding and portrait photography. Fewer than 10% of students achieve such as high qualification.
Gregg recently won the Barrett & Coe Portrait of the Month Award in August. His talent for imagery, which he showed during his training, has been realised at his studio with constant praise and appreciation from his customers in Welwyn, click here to view Gregg's studio.
The next portrait course and wedding course starts on Sunday 19th January 2014, to book your place call 01603 629739.
The following two tabs change content below.
Andrew Coe
Andrew Coe is great grandson of Albert Edward Coe who founded the Coe photography businesses 150 years ago. He is recognised as one of the leading teachers of wedding and portrait photography in the UK having been commissioned by City & Guilds to write the first module for the Higher National NVQ Diploma in Portrait in this field. He has also been commissioned to give seminars in New York, Las Vegas, Madrid, Cologne and many other international venues. He owns the franchise for the largest group of wedding and portrait studios in the UK which has photography contracts with many national retailers and other major brand names. He founded the first chain of one hour mini labs in the UK (all with wedding and portrait studios attached), the largest advertising and commercial studio in East Anglia, a leading professional colour lab and has trained more people to become full time photographers than anyone else in the UK.
Latest posts by Andrew Coe (see all)