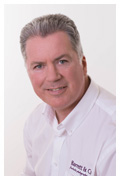 We're delighted to announce David Coleman from Barrett & Coe Southport has been named as the 2018 Barrett & Coe Photographer of the Year!
David commented "Thanks to all who visited myself, Clare and George in the studio and continue to make the job fun and interesting! We look forward to 2019 and creating more portraits of babies, families and pets to enjoy for many decades to come." A selection of David's images can be seen above.
Special mentions also go to Mark Adams of Barrett & Coe Photography Norwich and Matthew Preston of Barrett & Coe Lichfield who achieved 2nd and 3rd place respectively.