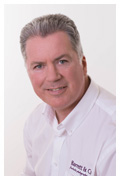 "In my previous life before Barrett & Coe I worked in the financial services sector for nearly 30 years, starting in banking before switching to become a financial advisor in the medical field.
For the last 17 years I was an offshore Financial Advisor living in places such as Tokyo, Bangalore, Buenos Aires, Shanghai and Kampala, amongst other great cities. I decided to go down the photography franchise route to take advantage of the training and support and brand awareness that a franchise receives.
I've worked for myself most of my working life, but now I'm actually doing something I enjoy!
I have great support from my wife who takes much of the administration load. This releases me to concentrate on the photography, editing and marketing. A day will typically be dealing with emails and messages first thing, followed by shoots in the studio. This is usually babies in the week and families at weekends, finishing with viewings in the evening and some editing and order processing.
I've worked for myself most of my working life, but now I'm actually doing something I enjoy! I fell into financial services and although I enjoyed the life we led, have seen more of the world than most, and had countless amazing experiences, I didn't enjoy the job. Wanting to go to work now is a new and refreshing feeling.
I want people enjoy their time in my studio and my aim is to always make it a fun, pleasant and stress free experience. Photographers are ten a penny. We all use similar equipment in similar surroundings but it's the photographer and quality of the experience that makes the difference. I don't take customers for granted and talk to and treat everyone as I'd like to be talked to and treated myself. We are trained that by having a good rapport with clients will ensure great expressions, resulting in great images!
I really want to succeed! I want to build a photography studio that the people in the North West talk about!"
In 2018 David was named Barrett & Coe Photographer of the Year, click here to read more.
To view David's work please visit www.barrettandcoe.co.uk/southport
Save
Save
Save
Save
Save