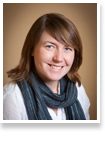 Ex physiotherapist Rebecca Barclay, who was one of our successful students in 2013, has started her own photography business. Rebecca, a mum of two, achieved a Barrett & Coe Photographic Diploma Grade 2 from our portrait course (December 2013)  and commented at the time: "I have really enjoyed the course and I have gained more than I anticipated, and overall, I have gained the skills and confidence to take professional images – thank you!"
After achieving a suitable grade from her training Rebecca started taking Emma's Diary data in July 2015 and works from home focusing her photography on Newborn, Toddlers and Children.
Rebecca has been in touch recently to update us on her progress;
3rd August 2015
Just wanted to share my excitement with you all – first Emma's Diary viewing today. £270 spent and the customer entered Baby of the Month too! Yay! 🙂
I'm a newbie too so I have no idea really! My photography business has only been running for 3 weeks, and that was my first ED shoot (and first shoot altogether).  All I can say is I've been planning for a long time to get things together. I'm working on location as I don't have a studio, I'm  going to clients houses, and I return to their house for the viewing taking with me a projector, screen and iPad with a slideshow (using the amazing Proofshare app), and my product list with Emma's Diary offers on it.
I've just had my second Emma's Diary viewing and they spent £500 and another Baby of the Month entry!! So far all I'm doing is phoning clients as I am yet to get any Emma's Diary marketing paperwork etc printed.
22nd October 2015
Dear all
I hope everyone is well. I just wanted to share with you all my exciting news that on Sunday I achieved my Master Photographers Association (MPA) Licentiate in portrait photography!! I am so thrilled. I also won a Merit for one of my baby images at the MPA awards. A huge enormous thank you to Andrew and the team for everything. My portrait course with you has given me the foundation to push on in the incredible world of portraiture. Really exciting stuff…now I just need to start planning my new studio, and think about getting more clients through the door!
Kind regards, Rebecca
To view Rebecca's work please visit her website or follow her on Facebook