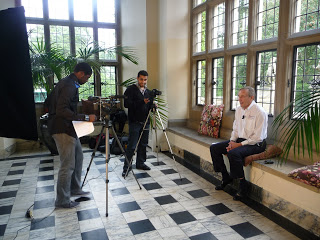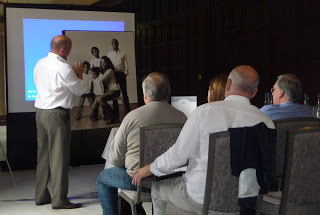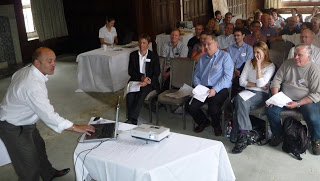 Over thirty franchisees attended our Portrait Training Day in Ware, Hertfordshire at Fanhams Hall Hotel headed up by David MacDonald and Elaine Sheppard. It was an action packed day of photography with models, presentation of new marketing material, critiques of franchisees work, and the announcement of a new contract for Barrett and Coe: To exclusively provide the photography for a Family Portrait Experience being sold in a national retailer with 500 stores across the UK.
This promotion goes live on October 6th. and will create large numbers of paid family sittings for our franchised photographers. Where we don't have a franchisee the sittings will be offered to past students who have obtained the required standards. Together with our Boots contract this will mean that Barrett and Coe family sittings will be on sale in 750 retail stores nationwide running up to Christmas.
We were filmed for a TV programme for BBC/ITV whilst at the Portrait Training day yesterday, you can see me being interviewed above!
The following two tabs change content below.
Andrew Coe
Andrew Coe is great grandson of Albert Edward Coe who founded the Coe photography businesses 150 years ago. He is recognised as one of the leading teachers of wedding and portrait photography in the UK having been commissioned by City & Guilds to write the first module for the Higher National NVQ Diploma in Portrait in this field. He has also been commissioned to give seminars in New York, Las Vegas, Madrid, Cologne and many other international venues. He owns the franchise for the largest group of wedding and portrait studios in the UK which has photography contracts with many national retailers and other major brand names. He founded the first chain of one hour mini labs in the UK (all with wedding and portrait studios attached), the largest advertising and commercial studio in East Anglia, a leading professional colour lab and has trained more people to become full time photographers than anyone else in the UK.
Latest posts by Andrew Coe (see all)