Our photographers come from all walks of life including retail, publishing, marketing, education and finance. With our dedicated head office support team, we can help you achieve this within months of starting a Barrett & Coe wedding photography course or portrait photography course.
We can offer advice with your search for a premises, provide marketing and branding support, appointment bookings and assist with other aspects of running a Barrett & Coe studio.
Click on an image below to read more about ex students who have opened their own Barrett & Coe studio.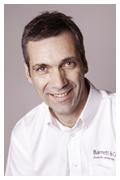 Stuart Gennery
Barrett & Coe Sidcup
Ziv Keidar
Barrett & Coe Islington