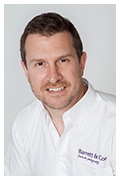 "Prior to photography, I have spent almost my entire working life in large broadcast and music media companies, working predominantly on the business side.
Currently, I am working as a part-time photographer and this means that I travel to the client's home and that every shoot is different, quite often in different postcodes. I usually shoot 2 days per week but will try and fit 2-3 shoots in those days.

Being in such a variety of locations has encouraged me to be prepared for anything!
I hope to take things to the next level and open a studio as soon as I am able.

On those days when I am doing a session I will pack the car with my mobile studio and drive to the client's home where I will assess the best room to set up, whether one light or two lights can be used and which props/ beanbags would be best. It keeps me on my toes as each room is different so each one is a new challenge to select the correct lighting, props, and backdrops. When I can I try and move into the garden if available, to take some more natural light shots.
Being in such a variety of locations has encouraged me to be prepared for anything! I hope to take things to the next level and open a studio as soon as I am able. In the meantime, my studio is your home! What could be more convenient than that!?"
Save
Save
Save
Save
Save