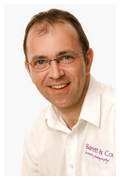 "Helping AXA Insurance group through the potentially disastrous Millennium bug period was my last big job in IT systems. The project was challenging and very time consuming. Following that I changed career to own a car dealership, and until my children were born this was fine. Gradually though the hours and responsibilities outweighed the benefits.
I took a year's sabbatical and enjoyed being a dad. I also started looking for another business opportunity to fit my criteria: I had to want to do it and I didn't want to have to start from scratch. Franchising was a great option and when I found Barrett & Coe who could take my interest in photography and turn it into a business, it meant action.
I get great satisfaction from being part of a dynamic and progressive group. The support from everyone is superb and heartfelt. It's rewarding to be able to contribute to new initiatives and the support between members is great.
A visit to the Franchise Exhibition at the NEC in October 2005 was followed within days by my committing to the wedding photography course that had already started! The course simply flew by and I signed up for the portrait photography course.
Being impatient and keen to start my business I booked myself into several Wedding fayres before I'd graduated! From day one the training was not about "theory" it was about how to make photography easy and profitable, which was perfect for the business and me. The fundamental "building blocks" the tutors teach are as relevant today as they were when I started. Knowing what to say and do at a "wedding chat" is as important as lighting and posing. You need a full understanding of all areas to be a successful and profitable photographer.
Things have kept on developing for me – I opened a studio in 2006. Baby, family, wedding and makeover photography have continued to be the growth areas for me. My aim is to have all areas of my business equally professional. Overall, I would like to take on another area around Bristol and I am going to work smarter, not harder!
I get great satisfaction from being part of a dynamic and progressive group. The support from everyone is superb and heartfelt. It's rewarding to be able to contribute to new initiatives and the support between members is great – for example, I enjoy helping some of the group with their image presentation training on our special viewing software – increasing their sales and profits."
To view Martin's work please visit www.barrettandcoe.co.uk/bristolSave
Save
Save
Save
Save